Dmitry Motorov – interview of PL600 regular and beginner streamer for Pokeroff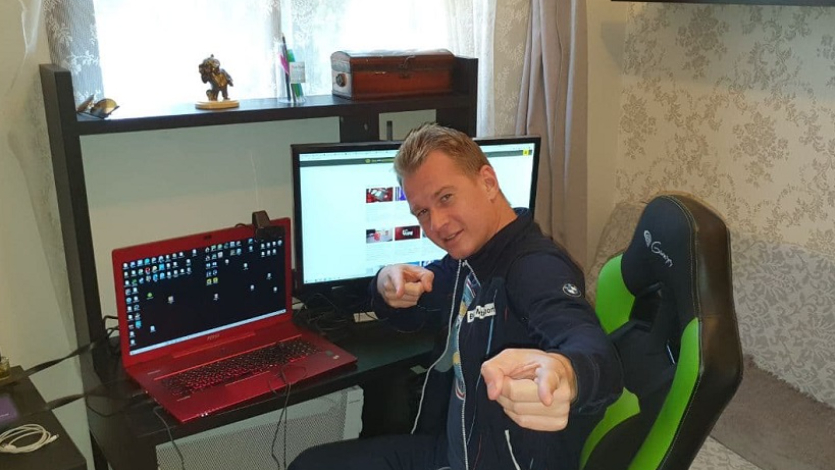 Today we are getting acquainted with an active blogger Pokeroff in the distant past, the hero of our interview is Dmitry "Bizi" Motors.
Very soon (at the beginning of March) Dmitry's streaming debut on the twitch channel Pokeroffru will take place. And this is a great opportunity to call and ask questions for an interview.
– Hello Dima! Tell our readers about yourself, someone remembers you from blogs on Pokeroff, and the younger generation doesn't know anything about you.
I am 35 years old, married, have children, I have been living for 3 years in Cyprus in Limassol.
– Have you accepted the citizenship of Cyprus or are you staying there on a visa?
Every year I renew my visa, my citizenship is Russian.
– Why Cyprus?
It is very easy to adapt to life on the island. Kindergartens, nannies, schools – everything is in Russian. 95% of communication takes place on the great and mighty. As if he did not leave his native Peter.
"Is it far to the sea?"
10 minutes walk.
– And what about the language, do you learn Greek?
No, I do not teach, there is no incentive and there is no practice. Maybe I know 50 words, like "hello" and "goodbye". After 7 years of residence I will be able to apply for citizenship.
– Do you often go to your homeland?
Before Covid, we went home twice a year, to visit relatives, to see friends, but for a year now we have been sitting in Cyprus.
– Talk about poker, how long have you been playing poker?
From 20 years old, it turns out already 15 years, although there was a break of 2 years – from 2017 to 2019 – I went to the crypt. I thought that I would never return to playing cards. But my friends showed me mobile poker apps, and somehow imperceptibly I went back and pulled back.
– Why did you quit poker?
Tired for 12 years, constantly grinding for the first places in rake races, began to burn out.
– What disciplines were your main ones before the break?
Previously played 6-max Hold'em $ 5/10 – $ 10/20, tried PLO and mix games. I went to the WSOP, got into the prizes. There was a fairly long period in my career when I played push-fold at 888poker, collaborated with Vladimir Shemelev – he was my backer. The rake was kneaded there, in one year I somehow made $ 300K of rake, thanks to this I got the maximum rakeback in percentage, and I got a solid profit. A lot were cut then with STiger at the same limits. I played mostly $ 25/50, $ 50/100 and 100/200, but went up for VIPs by $ 250/500 and $ 500 / 1K. Feruell, Vedevas, Trueteller, Misha Rudoy earned their living a little higher.
The variance in this game sometimes just went off scale, on especially unlucky days you could easily go to minus $ 50-70K without making mistakes.
– You know, we crossed paths with you once in our life, you went to the BPT final, and I commented on it.
Seriously?) Yes, it was. In 2016, I came to Minsk for the only time for a live episode and made 2 finals.
– You had a fairly popular blog on Pokeroff, what motivated you to keep it and why did you leave it?
Many players then rushed to blogging, so that later, if they were lucky, to sign a contract with some poker room. Shalamov, Filatov, Katz, Rybachenko, Kravchenko succeeded. For me, the process of the game itself was always more interesting than writing texts on a blog. He stopped blogging on Pokeroff when he co-founded his own resource Pokerway.ru, which existed for a couple of years. But then he bent over. Most likely, we made managerial mistakes there.
Poker Dictionary by Bizi
– How did you meet you online after the break?
I started with PL $ 1/2 at PPPoker, from the very start I lost about $ 6K (about 30 stacks), played very poorly. I went to JNandez's website, studied the course on PL Omaha. And slowly things went smoothly. Basically, Omaha in apps and Omaha in classic poker rooms are two different games. The first is more like playing offline – there are a lot of limped pots, often multi-pots for 3-5 people are played.
Many clubs have VPIP limits, for example, at least 50%. We need adjustments for this factor. Now I play $ 3/6 with $ 5/10 shots and $ 10/20 with good lineups.
– What applications are your priority?
I play Upoker and PokerBros almost every day for 1-2 sessions for 2-3 hours. But this is if the compositions are ordinary. If I can find a dream table, I can stay. Recently held a record session – 21 hours
– What win rates can you boast about?
Average winrate for 2020 is about 15 BB / 100. By the way, now I started to connect GGPOKEROK, on ​​weekdays I play regular PLO $ 2/5 tables there, and on weekends I play in applications.
– Have you streamed before?
No, I didn't have to.
– Do you think there will be jitters?
I think no. I have no fear of the public (spectators). By the way, I can tell you that in Cyprus I constantly participate in the life of an amateur Russian-language theater. Every week we have 2 rehearsals for 3-4 hours. We recently staged a performance based on Chekhov. The premiere was sold out, about 200 people.
– What to expect for the audience twitch channel PokeroffRu from your streams?
I think they will be interested. I have something to share on the topic of poker, for life, about love, about Cyprus – many different life stories. I gave two years of my life to a cryptocurrency project, so I can answer questions about Bitcoin and other cryptocurrencies.
– Aren't you afraid to strengthen the field? Imagine that 100 people will watch you, 10 of them will see you playing live and come to your limits to "punish" you.
There are no secrets – look at Galfond, he has been showing his game all his life and is still the best, the point is in adjustment, attention to detail, this cannot be taught, you can only learn. Not a fact, by the way, that I will constantly stream cash-Omaha. Recently I have been loading tournaments on GGPOKEROK quite a lot. So, maybe I will mix – once a profile discipline (cash PLO), once tournaments.
– Good luck, I'm waiting for the first stream!