Negreanu lost heads-up challenge to Polk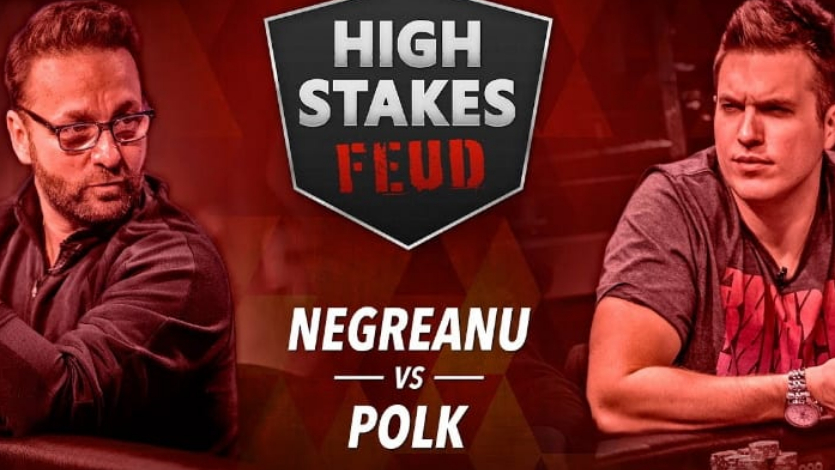 The most epic poker showdown in the last decade ended with the victory of Doug Polk. In a heads-up challenge against Daniel Negreanu, he won $ 1,202,000 clean and even more in side bets. Let's sum up High Stakes Feud and put an end to this story.
Challenge Result Polk vs Negreanu
For the challenge Doug Polk won $ 1,201,807 – this is almost exactly 3000 big blinds or "only" 30 stacks. Initially, the young player rated his winrate against Negreanu from 5bb / 100 to 25bb / 100, depending on how he prepared. In fact, Polk's winrate was 12bb / 100.
Pokeroff closely followed the course of the fight. We posted a short report on each meeting in the telegram channel @pokeroffru… Subscribe – there is much more other news that can also be discussed with the editorial board of our portal or other users.
On February 4th, the last session was played for 1,718 hands, for which Daniel lost $ 255,000. He did not have a chance of winning long before the start of the last meeting, but he did not want to admit defeat ahead of schedule. When asked why? he usually replied something about believing in himself, and that anything can happen.
Chronology of the Polk vs Negreanu standoff
At the end of July Doug Polk (Doug Polk) challenged Daniel Negreanu (Daniel Negreanu). A public conflict unfolded between them based on mutual hostility – Doug accused Daniel, the most recognizable poker player in the world, of venality and betrayal of fans. Initially, the poker players sorted out the relationship on Twitter, and then Polk offered to conduct heads-up – 25,000 hands online at two tables at a limit of $ 200/400 (NL40K). He didn't expect it himself, but Negreanu accepted the challenge… Both took a break for several months in order to properly prepare for possibly the most important match of their lives. Daniel hired a coaching team that included a certain Mattew Mj Gozales, and Doug went to the mid stakes trying to remember how the buttons are pressed.
November 4, 2020 the first meeting of the players took place, and offline. They played 200 hands at the PokerGO TV studio in Las Vegas – then Negreanu won $ 117K and Doug was almost buried.
After the offline meeting, the players went online and a half-year battle began. During the Christmas holidays, poker players took a short break, but in general they tried to play 2-3 sessions a week, 400-900 hands each. In total there were 36 – they all took place live. Towards the end of the marathon, both opponents were very tired, so the volume of the game increased noticeably – the last 5000 hands were played not in ~ 10 sessions, as might be expected, but in 3 sessions.
5 fun facts about Regiment's standoff against Negreanu
The full course of the fight can be viewed in the recording from three different sources, all of which are in English: GGPoker, Doug Polk Poker and Joe Ingram… Unfortunately, watching the action in English with closed cards is generally not interesting. Only in the last session did Doug Polk play with open cards when he was one hundred percent confident in his victory.
WCGRider also delighted fans with Q&A sessions (question-answer). He came to Reddit, where he talked about his vision of modern poker, and after every battle against Negreanu, he came live on his YouTube channel and answered questions from commentators.
KidPoker did not lag behind the opponent in the media, because in this there was also a kind of race between them. Even when Daniel was losing hundreds of thousands of dollars in a few hours, he always called up on Discord live commentators to answer their questions and complain about the RNG.
In addition, Negreanu recorded a couple of dozen videos in which he "analyzed" the reasons for his defeats in simple language and in an ironic manner. Spoiler alert: Most often it was either the RNG or Doug Polk who was just lucky. In the course of the challenge, memes were even born on this topic.
Conflicts during the challenge
Everyone expected at least minimal verbal skirmish of opponents after any meeting. Unfortunately, the case was limited to complaints to Negreanu about the RNG and Doug Polk's luck. Even if he used mate profusely, no one insulted WCGRider personally. But on the basis of the rules of the challenge, other showdowns took place.
After the first few sessions, Bill Perkins made a complaint against Doug: you cannot collect data about distributions manually, analyze them and compile statistics… To do this, for a second, both Negreanu and Polk hired entire teams of people – they manually recorded each hand and categorized all the opponent's actions to understand the frequencies. With Perkins betting a huge amount of money on Negreanu (over a million dollars) and directly betting another $ 500K against Polk, his word had a lot of weight. To resolve the conflict, they had to invite an independent arbiter – Phil Galfond. With his help, the players came to the conclusion that manual statistics are not prohibited.
The second, more amusing conflict occurred at the very end of the challenge. Doug played a lot, there were only a few thousand hands left and he suddenly loses over $ 385K per sessionthus allowing Negreanu to grab onto a thin straw of hope. To reduce variance and be safe, Polk radically changed the strategy of the game – he began to open much less with raises on the button and limp more… Negreanu thought that Doug was acting ugly and, like in kindergarten, began to tease him in response – he made all decisions preflop for 20 seconds and frankly stalling for time even in the simplest spots. This drove Polk into tilt, and he stopped the game right in the middle of the stream to challenge referee Galfond again. The result of the collective call was the rule – The regiment can limp further, and Negreanu can think as much as he needs in such cases.… Doug realized that limping would be more expensive for himself and generally abandoned the strat.
What does Polk think of Negreanu's game?
After a couple of thousand hands after the start of the challenge, all hostility between the players disappeared, and Doug, like a parrot, repeated almost every broadcast – Negreanu is playing better and better. Even when Polk won with a crushing score, he never stopped curtsy to KidPoker.
To give comprehensive answers to any questions, Doug recorded a 50-minute video, where he talked about the strengths and weaknesses of his opponent, and also analyzed a couple of hands.
Many people followed the challenge and saw Negreanu lose a lot of buy-ins. You might think Daniel is bad at NLHE heads-up. But I really think he played exceptionally well given his experience.

He played relatively well in most situations. There weren't many spots where Negreanu played really badly. There were a couple where I think he played so-so. All in all, his game was solid. But there is one main thought that kept him from playing the first half of the challenge – he was afraid to play for all the money
Will the show go on?
Negreanu agreed with Polk's assessment of his skill. He feels incredibly confident and even suggested a rematch, since this time, in his opinion, he simply did not get a card.
The offer seemed to Doug as unattractive as possible, because it will be a completely different heads-up, where he is unlikely to receive the proper coefficient and action. Plus, most importantly, WCGRider didn't just "retire". According to him, he hates playing poker. At the same time, he admitted that "it was nice to feel like one of the best players in the world again." Now his plans are to wait for the coronavirus vaccine, and then move from Las Vegas to somewhere in a quiet town in order to lead a quiet family life.
Something tells us that Daniel can easily find himself and another opponent to match the scale of his personality. He has already publicly discussed the candidacies of Helmut and Ivy, if they, of course, agree.