Opposition Victor "Limitless" Malinovsky vs Stefan "Stefan11222" Burakov: …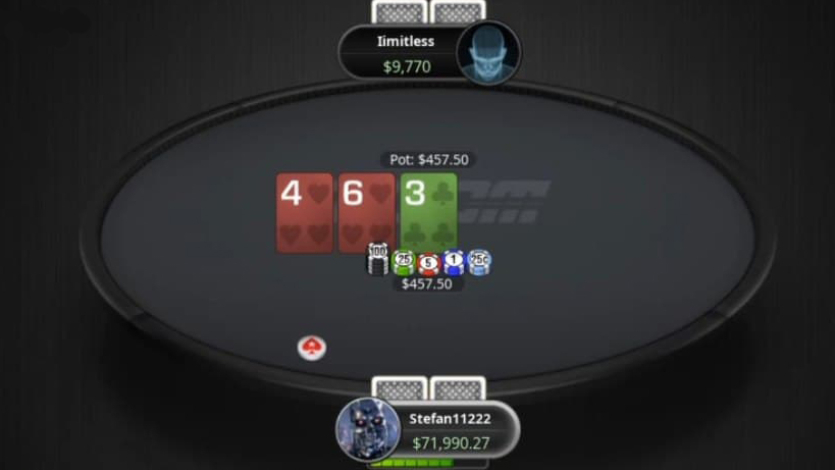 How did the fight between the high stakes regulars begin, on what conditions did the bets agree and how did they play the first 7 hours of ZOOM NL10K at PokerStars "Limitless" against "Stefan11222".
How did the confrontation between Limitless vs Stefan11222 begin?
The first duel registered in Russia took place in 1666: two officers of the Russian service from the "foreign" regiment fought over insults. After 355 years, duels have not lost their relevance, however, they have become much less bloody, but by no means less interesting. And the reason to challenge the opponent remained the same – the protection of honor and dignity.
That some kind of storm is brewing between "Stefan11222" and "Limitless" became clear this week. The site GT has become a platform for making claims to each other. Stefan took the floor first. Referring to the SmartHand results, Stefan called Victor a fish. This is because last year "limitless" on PS rolled 100K hands with an EV bb / 100 of -1.3 and a profit of 0.4 bb / 100. According to Stefan, top regs don't roll with "1evbb / 100" so Victor is a fish. "
The second accusation of "fishery" came for the fact that Malinovsky often allows himself to "play according to the senses." Despite all the accusations against Malinovsky, Stefan maintains respect for him as a player and opponent, and believes that "Limitless" can be called a legend. But sports anger towards Victor has awakened.
Then Viktor Malinovsky spoke. In their cheeky manner, Limitless stated:
I want to show where Stefan belongs in the poker hierarchy, I even want to repeat Khabib's phrase: "I want to make him humble" (It's time to make him humble).
Malinovsky accused Burakov of cowardice ("Stefan11222" deliberately avoided collisions with "Limitless") and trash in his address. In this connection, Victor challenged: 50K heads-up hands NLHE at a limit not lower than NL20k. Each of the players has the right to finish the challenge only if they have lost at least $ 1M.
Also "Limitless" explained for 1evbb / 100 with the "classic" phrase: "Yes, something has somehow not worked out the last couple of years online"… But by playing in Macau and playing on Tesla shares, Malinovsky's financial position is better than ever. Let's see if Malinovsky will have to pull out the challenge against Stefan11222 plus at the expense of Tesla shares.
Victor "Limitless" Malinovsky vs Stefan "Stefan11222" Burakov: a strange rule with an avatar and other conditions of the challenge
It became known late at night that the opponents had agreed on the terms of the challenge. Here they are:
30,000 hand NL10K hedge-up on PS;
you can give up if you lose $ 1M;
stacks are not restarted up to 150 bb;
no more than two reloads of the time bank per session;
crossbook with x2 coefficient in bitcoins;
no obligation on the time of the game; the only condition is to play the distance before the summer;
the loser publicly recognizes himself as a fish on Stefan's blog, congratulates the winner and apologizes for the disrespect.
Victor accepted another strange condition of the challenge: he must put this photo on his avatar.
"There is nothing humiliating or offensive in this avatar, no creepy references, so I see no problem to put it," Stefan commented.
Results of the first match Limitless vs Stefan11222: 1: 0 in favor of Stefan
Today, at 4 am, Stefan11222 and Limitless started their challenge without any notification anywhere. The game lasted about 7 hours. 1,521 hands were played at NL10K. Closed the table as the winner "Stefan11222" + $ 45,668.
There were no crazy hands in the style of "72 don't lose" (or they did not come into view). The largest was the $ 40K pot.
A few more hands Limitless vs Stefan11222
Who do you think is stronger: "Limitless" or "Stefan11222"? Share your opinion in the comments and join the discussion at chat in Telegram.