Samurai Foundation representative and cash trainer Valentin "Veles" – interview …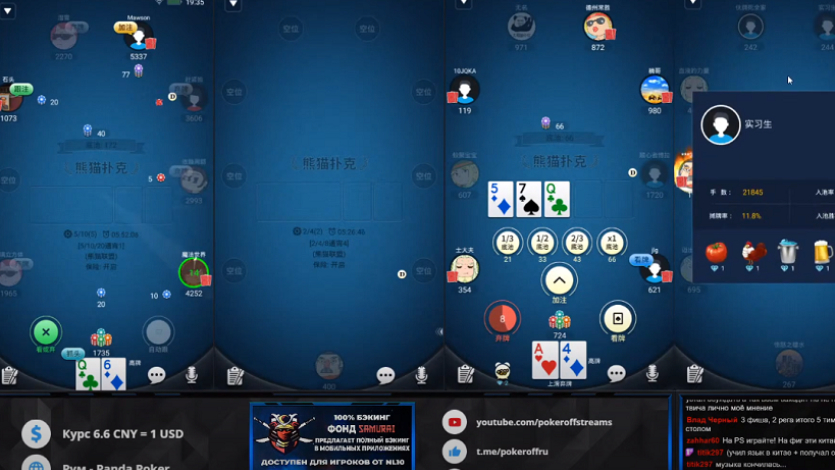 On Pokeroff TV channel a new streamer has appeared – Valentin "Veles". Valentin is well known as a trainer for cash players and the author of a huge number of training videos and reviews of poker rooms. The first stream has already passed. Catch an interview with Valentine. The main topic of conversation is Chinese poker rooms, should we expect a profitable game in them in 2021.
– Why is it profitable to play in applications?
In short – a weak field, low rail load and, as a consequence, high win rates.
The first reason is that the field is weaker than in Eurorooms.
As a rule, the minimum limit in these rooms is NL400 in yuan, which is somewhere around NL60 in dollars. All Chinese newbies and weak regulars are forced to start the game at these limits. Due to this, the field there is rather weak and can be beaten by regulars of the level of NL10 PokerStars.
The second reason is that instead of the rake in each hand, a commission from the profit.
Rake in apps is calculated differently than in regular rooms.
For example, a 3-5% commission is charged exclusively from the plus and only after the table is closed, as well as a commission when withdrawing the profit of their room. That is, if you played the table with a minus or zero, you will not pay a dime of rake.
For comparison, on PokerStars if you play 9bb / 100 with 9bb / 100 rake, then your actual winrate is 18bb ​​/ 100 from which exactly 50% of the commission is taken, but they do it "for a pretty penny" from each hand. What can we say about players with lower win rates, who can rake up to 100% profit.
Therefore, the average rake is 3-4 times less than in Euro rooms or on PS.
The third reason is that almost all of our players have double-digit win rates.
This is a direct consequence of the first two points. The average win rate of our players over the past year is about 25 bb / 100, and over the last 3 months about 30 bb / 100. Since the game is played with a forced straddle, in order to compare the winrate with Eurorooms, it needs to be divided by 2, so in total we have a winrate equivalent to 12.5-15 BB / 100 hands at NL60 – NL100 in dollars.
China is a good opportunity to make money and climb the limits.
– And if the player skates badly. Deposits from the salary, pours in, waits for the next salary. And that, even if he comes to Chinese rooms, he will immediately make money?
We do not take bad players for backing, but such players can play at their own expense. If such a player has results better than -8bb / 100 in Euro rooms, then there is a good chance that he will start playing at zero or a small plus in Chinese rooms. First of all, due to the fact that he practically will not pay rake.
– What do you need to do to become your player?
We take players NL10 or higher with a win rate of 4+ evbb / 100 who are willing to spend over 25 hours a week playing. They also shouldn't have problems with tilt and discipline.
– That is, you need some kind of distance? How many thousand hands?
An applicant to join the fund must complete an application and submit a schedule for at least 50,000 hands over the past six months. If a player cannot provide graphs, then we ask you to record a live session at the working limit and send it to the coach for analysis.
– What is the minimum limit required to accept an application? NL2 beat – good?
The player needs to beat NL10 +, but we can look at some solid NL5 regulars.
– How do you work as players?
Most players are not used to playing with antes and straddles in deep stacks, where almost all the pots are in multi-waypots. These are the features of the field.
Therefore, before the player starts the game, we provide a training course that contains all the necessary information (ranges, adjustments, recommendations) for quick adaptation to the game with straddle and ante. Also, fund players get access to group training and a large number of training records.
After the player is familiar with the course – we help to set up all the software necessary for the game, we provide HUD, mining, and Samurai Tools.
At first, you still need to adjust to the clearing, so we start with three tables and connect the next ones with profit (it is a good indicator of how the player has adapted to this game)
After playing the first 2000 hands, we will definitely conduct individual training. We conduct additional individual training if required.
In fact, we take a good NL10 player and make him a solid regular to play in China. And we also give money for the game.
– Do you back and teach only in Hold'em?
Yes, only hold'em.
– How are contracts concluded? For how long and how many hands?
First of all, you need to read the terms and conditions and leave a request. If a player suits us, we start with him the first package of 30,000 hands. Subsequent packages are already 60,000 hands. The first package is trial, it allows the player to understand how comfortable he is to play and if there is a desire – after it he can increase his share.
– When and on whose initiative a decision is made to transfer to the limit lower or higher?
We consider raising the limits individually for each player. First of all, we focus on the distance and profit of the player.
– Chinese rooms are demanding on computers. How is this issue solved if the iron does not pull?
I would not say that you need a super powerful computer. The top computer of a decade ago will be pulled by China. A Core i7 of the very first generation (4 cores, an eight-thread processor and 8 GB of RAM) will be enough to play 3-4 tables). If the player has a completely weak computer, you can rent a server, for example, you can take a ready-made server for $ 60 and use it as a working machine. We help with the setup, but the cost of renting a server is borne by the player.
– What about the software? How convenient is software in China?
Application clients are quite convenient, with a minimum of settings. At first, there may be unusually vertical tables (as in the mobile clients of most European rooms), but you get used to it after a few hours of playing.
There is not enough auto-timebank and weightlist, but these functions are performed by Samurai Tools, which we provide to our players for free. Also, the tool adds colored boxes if your move, sounds and other options that make multi-tabling easier.
– How are you better than other funds?
We have been backing since the beginning of 2019 and were among the first funds. Many foundations have since ceased operations and went bankrupt because they paid insufficient attention to the players, aimed at too high limits, or played in unreliable applications.
Players have many options for increasing their share of the profit. There are bonuses for the speed of wagering, players can redeem shares at the start of cooperation and after the completion of each package. In addition, we regularly increase the rollback to players with whom we have been cooperating for a long time.
We have a full service for working with players: HUD, our own software, support. We help players at all stages, helping to improve their skills and earn both him and us.
– What are the most popular Chinese rooms in terms of cash traffic?
The list is constantly changing. We try to run into the most profitable and reliable rooms at the moment.
– Does it happen that the players from the fund get to the same table together?
Yes, sometimes.
– And how is this situation solved? Softplay? Or are they playing at full strength?
There is no softplay or teamplay and cannot be. The members of the fund do not even know who is playing under which nickname.
– In some Chinese rooms there are restrictions on VPIP – like, not less than 35. How do you deal with it?
There is no such limitation in the rooms where we play.
– Valentine, you yourself also play in China, what win rates can you boast of?
About 16 BB per 100 hands, it is possible to make a stable profit.
– You will stream soon (note: our conversation took place on the eve of the already past Valentine's stream). Aren't you afraid that thanks to such streams, viewers will flock to China and take money away from the Chinese before the fund's players thanks to your tip?
Let's start with what many people know about these rooms. China has been streaming for several years now. Therefore, I do not think that because of this the meadow will deteriorate much.
Plus, we are constantly looking for new applications with the best field, we are finalizing our training course, we analyze with the players all the changes in the game tendencies and this gives a good result. The average win rate of the fund's players has only increased recently.
The same stream where Valentine played four tables in the Panda Poker room at a limit of 5-10 (straddle 20) in yuan
Do you want to play in Chinese rooms with backing from Samurai fund – follow the link and apply, you can also add to the telegram @samuraipoker