Scott Ball, creator of Twitch Poker, turned out to be a scam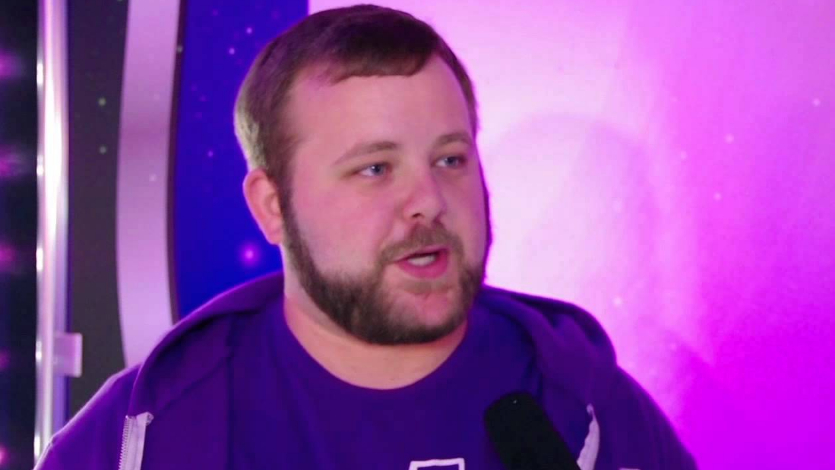 How did poker come to Twitch? All thanks to Scott Ball, a poker and eSports enthusiast who had good connections with the top management of Twitch.tv. But, unfortunately, he could not cope with his gambling addiction and threw Phil Hellmuth by seven figures. In this article, I will tell you in detail everything that is known about this story.
If you only want to read about the Helmut scandal, then skip the first two sections in which I will talk about the personality of the antihero.
Who is Scott Ball?
Scott "Rumcakes" Ball (Scott Ball) was born and lives in the USA. From an early age he was engaged in martial arts, but was forced to quit due to epileptic seizures. Has no higher education. Scott has had a lifelong passion for video games and esports – he was a manager for gaming organizations even before Twitch.tv came along. Subsequently, he created his small brand It's Gosu in 2012, where everything was kept on the enthusiasm without salaries. He did not last long.
Hiro said that in those days he often had to live in a "game house" with his charges (from the English game-house – a house that is rented for a short period of time so that a team of cybersportsmen could meet and train in the same room). Then he started playing poker – first at home, then at micro-stakes online, and then at the limits of $ 1/3 at the casino.
For a full-fledged poker career, he did not have enough courage or money, because it turned out with varying degrees of success. At the same time, he worked as a security guard, then as a manager in the same esports organizations in order to make ends meet. Around 2013, he got a job at Razer, a professional gaming device company. Then, quite by accident, his career took off …
The drunken party that brought poker to Twitch
So, being a poker and e-sports enthusiast, Scott already clearly understood that it is incredibly difficult to get money in computer games. And by some miracle, he found a way to make good money on what he liked.
It happened at the EVO Championship gaming exhibition in Las Vegas in 2014. It brought together the best fighting game players from around the world – Street Fighter, Super Smash Bros, Tekken and so on. By that time, the Twitch.tv gaming platform had already appeared for three years.
Scott, who worked in eSports, had good connections with Twitch's top management. At the afterparty after the show, he just met the top 2 people from Twitch's management. He was a little tipsy, but he happily listened to Scott's "pitch" and agreed to a crazy idea – add the Poker tab to the platform in test mode.
Thus, Scott Ball became the "creator" of poker on Twitch.tv and was responsible for developing the community, working with streamers, as well as attracting new partners. The first person he lured to stream poker from YouTube to Twitch was Jason Somerville. But then everything went by itself – the "poker boom" began on Twitch and it was created by Scott Ball.
At the position of Head of Twitch Poker (the head of poker at Twitch) Hiro worked until 2018. Then he opened his own marketing agency End Game Talent for streamers and advertisers.
Scott Ball cheated Hellmuth all 2020
Having gained widespread prominence in the poker community, Rumcakes has established contacts with a huge number of top division players. So, in 2020 Phil Helmut (Phil Hellmuth) entrusted him with organizing his private $ 5/10/20 cash game. The game was played online, rumored to be in a mobile app. The calculation went post factum through the accountant. Only the brave and funny, so to speak, were invited there – those who are ready to give action in order to receive action, as well as those who are ready to play a couple of hours in non-core disciplines, exotic mix games, and so on.
Mike Matusov (Mike Matusow), who calls himself Phil Hellmuth's closest friend, recorded an hour and a half podcast, where he told the whole truth about the personality of Scott Ball.
I don't attach importance to situations where people are not giving away $ 50K or $ 100K … This happens in poker every day. But when the conversation comes to seven-figure amounts, then everyone should know.

I immediately said that this guy is a cheater, a swindler and bankrupt, it was obvious from him. But Phil believed him so much that he did not hear me and we constantly fought.
From the words of Matusov, we learned that:
Ball allegedly specifically kicked Matusov out of the game, because he was the most skillful and profitable player;
Scott Ball himself began to sit at the $ 5/10/20 table ($ 20K bid), and then raised the stakes in home games to $ 20/40 ($ 80K bid), which made many participants uncomfortable to play;
He asked Helmut to hire his friend as an accountant. He was paid $ 1000 once a week. Later this "friend" started playing at $ 20/40;
Since May / June 2020, Scott has been playing in cahoots with an "accountant" and another unknown "friend." For 2020, they took out from $ 700K to $ 850K (according to Matusov's estimates);
In December 2020, about a week before Christmas, Scott Ball played 3-max against Fila Nagi (Phil Nagy) with one of his horses. Phil Nagy is the WPN Poker Network Manager. He came to skate completely drunk and did not even remember how he lost $ 270,000 in the evening.
Most importantly, Scott had a great relationship with Hellmuth all this time and convinced him to invest in his marketing agency End Game Talent. Hellmuth and company gave him a total of $ 900K first, then another $ 200K. Only not all of this money went into business – Scott could not cope with gambling addiction and was losing hundreds of thousands of dollars on high-limits. For example, it is known that he played 3-max against Nick Petrangelo and Jason Kuhn, and left $ 400K.
Matusow estimates that Phil Hellmuth lost between $ 1.5 million and $ 1.8 million in 2020 due to Scott (excluding the Nagi incident). At the same time, Matusov stressed that Ball allegedly threatened him with legal proceedings if he poured everything out on the public, but, at the same time, Ball allegedly "confessed" to what he had done. In general, Mike Matusow is not the most reliable source, but according to him, about a dozen people can confirm the whole story.
How did you find out that Scott Ball was cheating? He was betrayed by the same "accountant" with whom they played in collusion. The man said that over time, Scott began to take home games from the "box office" for an additional $ 5-10K per week, and this was noticed by one of the participants in the game, Marcus Gonzales. What exactly was the situation is unknown.
According to Matusow, Phil is unlikely to pursue a fraudster and demand money, as he prefers to keep everything to himself and let go of the situation.
The poker world, unfortunately, is rich in such stories. It's even sadder that Scott won't be punished for what he did. Not legal, and potentially even social. Commentators on the 2 + 2 forum cite the same example … Mike Matusow, who also owes millions of dollars.