Unibet poker room gives regulars the opportunity to earn up to 51% rakeback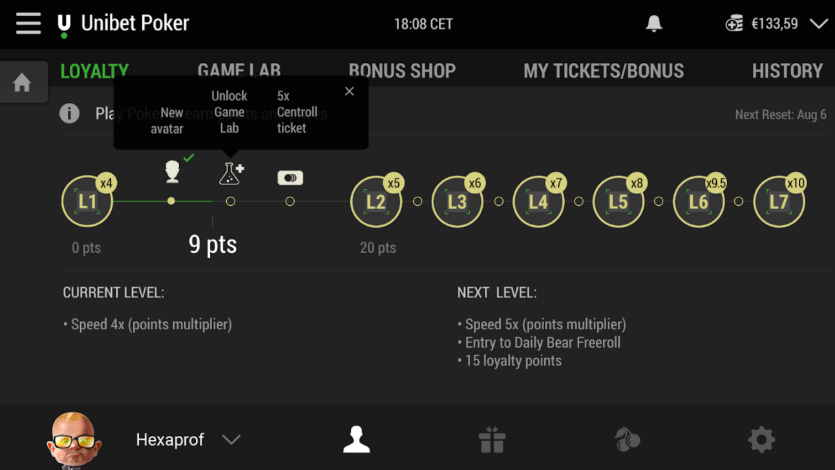 Unibet Poker has carried out the long-awaited redesign of the game client at the end of 2020 and it is time for the promised update of the VIP system. The room did not manage to prepare a new rakeback room by January 1st, so the release was postponed to April 1st. Let's see how much regulars can earn, and how much it shines for ordinary players.
Why Unibet is ditching the old VIP system
Now there is a mission system in the room, and the main reason why it will be abandoned is the laws of the different countries where Unibet operates. According to the spokesperson, they cannot use the mission system in all markets, so they decided to switch to a more classic progress system. In it, they will fine-tune each individual country to comply with local laws and taxes.
And the representative of the room said that it was difficult for many players to keep track of missions and points in different types of games, especially from a mobile phone. To illustrate, he explained that the mission system was created almost specifically for a cash game – at that time the poker room's income consisted of 85% of rake in cash games. Now this number has dropped to 60%, that is, players began to devote more time to other types of poker.
New VIP-system Unibet with rakeback up to 51%
Data is current as of January 27, 2021. A room spokesperson warned that some details of the VIP system could change by the time of the April 1 release.
The new program will also run quarterly (January-March, April-June, July-September, October-December). For each quarter, you can receive 2 types of awards:
Level rewards… Play poker, collect rake and get levels. There will be 34 of them, and the rewards include cash prizes, tournament dollars, bonus points and tickets to HexaPro tournaments.
Bonus Points… The classic rakeback model – the more you collect rake for the reporting period (quarter), the more your rakeback. The total maximum rakeback on Unibet can be 51.1% (with the mission system it was about 60%).
Below will be presented Unibet total rakeback table… The official said that there will be 34 levels in total.
| | | |
| --- | --- | --- |
| Rake for the neighborhood | Rakeback | Rakeback in% |
| €5 | €0,5 | 10% |
| €25 | €3 | 11,8% |
| €105 | €12 | 11,7% |
| €230 | €38 | 16,5% |
| €480 | €69 | 14,4% |
| €1405 | €237 | 16,9% |
| €2205 | €504 | 22,8% |
| €9005 | €3560 | 39,5% |
| €20,555 | €8639 | 42% |
| €32,105 | €13,718 | 42,7% |
| €43,655 | €22,297 | 51,1% |
In addition to cash prizes, upon reaching new levels, you will also receive an additional bonus points multiplier, which will remain in the next quarter. For example, for € 2205 rake (level 6), you will get a 12% (1.12) bonus point multiplier. The maximum multiplier of 18% (1.18) opens up for € 9005 rake.
In short – Unibet is glad to players who play a lot and expensive. It doesn't matter if they win or lose.
For us, the rakeback will be lower …
Yes, the Unibet representative wrote in plain text that rakeback will be lower for players from Russia, Ukraine, Belarus and Poland. Judging by the schedule, by about 5-6%. On average, for players who generate up to € 10K in rake per quarter, the system will bring in either the same or slightly more rakeback than the current mission system.
For our main markets, there will be more generous rewards, and for a small group of countries that negatively affect the environment, rooms will be less generous. It includes Russia, Ukraine, Belarus and Poland. We strive to provide the best conditions for players in our main markets, so, unfortunately, the awards cannot be the same for everyone.
Migration to a new VIP system
According to the current Unibet system, when you accumulate 500,000 challenge points, a transfer to the next quarter opens, including partially completed tasks. The accumulated mission points will not be transferred to the new VIP program, but simply manually paid their reward with bonus points.
All users who have accumulated € 2205 or € 9005 rake in the first quarter of 2021 will automatically receive a bonus point multiplier (12% or 18% respectively) from April 1st.